Panoramic X-ray Parts
Are you in need of panoramic X-ray parts for your dental office? We have the professional parts and services you seek. At Technical Electronic Contractors we understand that when your machine goes down, your dental practice suffers. That's why we provide the dental X-ray parts that so many offices depend on. And, we can ship anywhere you are!
We have been helping dental offices like yours since 1996, providing parts as well as back-up technical services and maintenance on many top-quality units. At Technical Electronic Contractors, we are proud of the work we do as well as the great parts we carry. We take our jobs seriously and hold our customer service to the highest of standards. So, if you are a service manager, technician, dental office manager or anyone else who works in a dental office, give us a call to learn more about our panoramic dental parts and panoramic X-ray maintenance services today.
Why Panoramic X-ray Parts from TEC
Why should you get your panoramic X-ray parts from TEC and not anywhere else? For one, calling dental X-ray manufacturers for panoramic X-ray parts can often mean a long, drawn out process. With the manufacturer, there can often be many roadblocks that can make repair difficult. Many dental companies and manufactures that sell the technology want to do their best to control every angle of it. And by doing so, they make repairing and servicing their technology all the more difficult. That's where we come in. We can get you the dental X-ray parts and assistance you need.
We offer panoramic X-ray maintenance on a contractual basis and stock parts for a variety of machines as well. We also offer calibration and other procedures to help keep your machine up and running in good working order. Some of the services we offer include: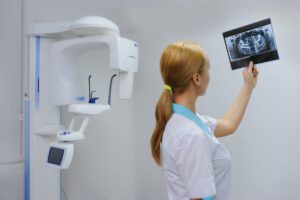 Parts sales including new, refurbished and used parts.
On site repair/alignment.
Periodic maintenance.
Factory trained moves.
And more.
We even offer hard to find panoramic X-ray parts. So contact us today to learn more about panoramic X-ray parts and all we can do for your dental office!
Contact Us about Dental X-ray Parts
When you need panoramic X-ray parts for your dental practice from a company you can depend on, call Technical Electronic Contractors at 612-963-8337 or Contact Us to learn more.